SYMPHONY SOUNDBITES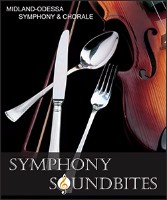 EACH SOUNDBITES SUPPER HAS A THEME!
Join us before the "Symphonie Fantastique" performance by purchasing a ticket to the scrumptious pre-concert supper in the Rea-Greathouse Recital Hall in the Wagner Noel Performing Arts Center. Dine with your friends as Maestro Gary Lewis and guest artist Stephen Rose provide you with an insider's view of the evening's program. Bring your friends and make new ones as you learn about the music and enhance your symphony experience! 
ON THE MENU:
September 9, 2017 – TEXAS HOMESTYLE SPREAD
Texas Style Brisket, Brussel Sprouts with Creamed Onions, Macaroni & Cheese, Fresh Green Beans, Tossed Garden Salad with Creamy Ranch Dressing, Wheat dinner Rolls, Two-bite Brownies
All SoundBites suppers include iced tea, iced water or coffee. A cash bar is available inside the dining room.
TICKETS: $26 each (MUST PURCHASE BY FRIDAY, SEPTEMBER 1ST)
TO PURCHASE TICKETS CALL 432-552-4437